Home
Eurokor Barging BV
Eurokor Barging BV takes away all your worries with regard to European river-barge transports, via the Northwest-European inland rivers and canals.
Through our years of experience, we have build up a well-organized door-to-door concept of shipping, transhipping and delivering goods in time and as per customers requirements. From our modern established well situated office in Zwijndrecht, equipped with up-to-date communication means, our staff is at your disposal, 24 hours per day, 7 days per week.
For any accurate market information, professional supervision and careful handling and post-fixing of your transports, against competitive prices, we are there to help you out!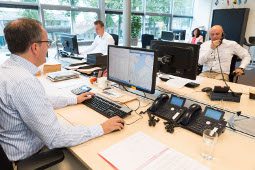 Eurokor has been part of Interrijn BV since February 17, 2022: